What are Asynchronous Piano Lessons?
Our piano lessons are customized to your student- but available on your schedule. No more squeezing in piano between soccer and dance class! At a time that works for you, your student gets on the app and receives their lesson assignment for the week. There are practice requirements, points to be earned, a studio wide leaderboard, and easy communication with the teacher, all in the app.
All you need at home is an instrument, internet connectivity, and a tablet for the student to access our app and their lessons assignments. 
What are the advantages of Asynchronous Lessons?
Cost-Effective: With everything seemingly costing more this year, asynchronous lessons are an affordable way to learn the basics of piano. Our current special is $69/month!
Convenient: Lessons are happening every week regardless of your schedule or the teachers'. You can even access extra lessons in the library if your student is ready to move ahead.
Multiple students: If you have more than one piano student, they can both take advantage of one subscription, assuming that they are on the same level. This is a great way to get some musical instruction for the whole family at a great rate!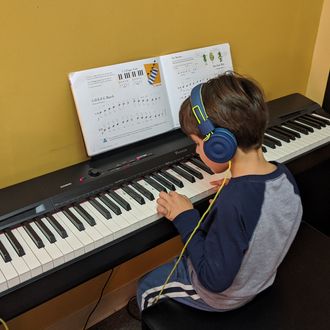 Wilson Piano Method's asynchronous lessons are currently for beginner to early intermediate students. The age of the student is not important, although as with any activity, the younger the student, the more adult supervision and involvement will be needed.
Sign up for a Music Meet-Up time that works for you. This is the live class feature that we are currently offering as a bonus.

Next, you will choose a time for your student's orientation with the teacher. 

All meetups and teacher interactions are virtual- no need to leave your house or drive anywhere!
Once your student is registered here, you will receive several emails to finalize their account setup. Your student's orientation will be scheduled within 7 days. Payment method must be on file before orientation. You'll enter payment information and receive Meet-Up reminders through our studio management software, Fons. Your student will receive all of their lessons and media through our app, Tonara. We will send you all login information once you have registered. Your first tuition payment will draft on  the date of the student's orientation meeting, and that will be your payment date each month.
The first lesson will be waiting in your account when you log in. Subsequent lessons will arrive each Friday, and be labeled by their date. You will receive a weekly news email about our studio, student success stories, and upcoming special events. We're always adding to our bonus library for additional content. Our teachers offer private virtual sessions usually 1-2 times per month. Students can sign up for a private session at any time, for a one time $25 fee.